Andrea Sabatello – short bio-note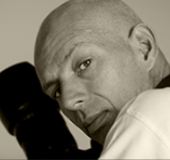 I have spent over 25 years as a visual communicator. Beginning in movie productions and expanding to photography very early.
I specialized in advertising, still-life, architecture, photography.
In 1990 I established inStudio a very large and well equipped studio in Rome where I have done many of my works.
My goal is continually evolve and grow in both these skills and in the digital realm.  I have a solid foundation in analog photographic techniques. I take full advantage of current technologies, and incorporate these in my work-flow to provide my clients with high impact imagery.
My passion for image creation continues to grow ever since I picked up my first camera.